Every Third Thursday, 5pm-9pm, RAIN or SHINE!
North Beaches Artwalk is a free event held the third Thursday of each month from 5 to 9 pm. Featuring many local visual artists and live performers. Artwalk is held at the Atlantic Beach & Neptune Beach Town Centers. Also at Adele Grage Cultural Center with a different featured artist every month. With over 55 participating artists, Artwalk is a diverse art destination & shopping experience for the entire family. Local venues set the backdrop for this great monthly destination and community gathering.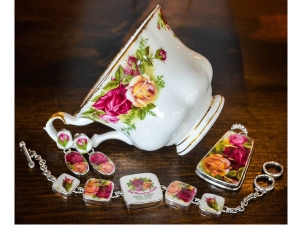 Give Your China New Life at Red Daisy
Love your precious China but have no use for it? Instead of ditching it, bring it to Red Daisy for their jewelry trunk show with China Baroque!
Known for taking china dishes, plates and cups and repurposing them, China Baroque will be in-store to help you custom design your china into personal, wearable pieces! Plus thousands of ready-to-wear pieces will be available for purchase.
Stop by May 3rd through 6th, Thursday through Sunday 10 am – 6 pm at The Courtyard at 200 First St.