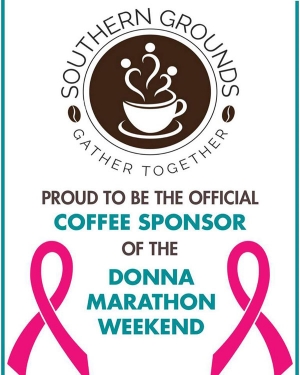 The Donna Social Shakeout Run
Friday, February 8, 2019 at 8 AM
Hosted by 26.2 with Donna The National Marathon to Finish Breast Cancer and Southern Grounds & Co.
3 Mile Run/Walk with Donna Deegan, DONNA Special Guests and V I Pinks
FREE and Open to All
Southern Grounds is the official coffee sponsor of the 2019 Donna Marathon! We are so excited to join them in the fight against breast cancer!
Curb crew info: Click Here.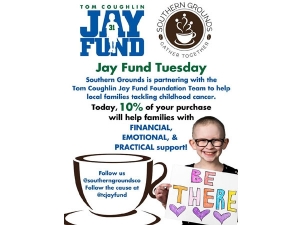 Tuesdays are For The Jay Fund at Southern Grounds
Do some good with your daily brew. Starting this month, the 4th Tuesday of every month will be known as Jay Fund Tuesday at Southern Grounds! With every purchase made, 10% of proceeds made will go directly to the Tom Coughlin Jay Fund Foundation to help local families tackling childhood cancer! Help Southern Grounds BE THERE for the Jay Fund so they can continue to BE THERE for families in need!
For more information on the Tom Coughlin Jay Fund Foundation, click here.