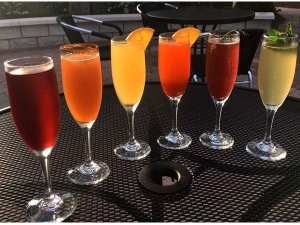 It is SoGro's aim to show that Champagne/ sparkling wine can be enjoyed year round, and doesn't have to be reserved for special occasions, or need expert handling!
The versatility of Champagne is well known. It can be enjoyed in so many ways. If you haven't had champagne at breakfast yet then it is time you do. Champagne goes fantastically well with a number of Southern Grounds breakfast items but the favorite is with grits bowl.
Actually champagne goes well with a lot of different and versatile range of dishes: From the rotisserie chicken Caesar salad to the Southern Grounds Reuben or the quesadillas. Champagne with oysters or caviar is the classic combination but champagne can be paired with everyday food. A perfect pairing is with the charcuterie from Olympia Provisions in Portland, Oregon or our salmon & lox. Champagne can be just the item to take the meal to new heights.
Lots of SoGro customers personally love to drink champagne with cheese! Champagne works well with all cheeses. It's light enough to not overpower delicate goat cheese or nutty Comté, but it also has enough acidity to cut through the deeply savoury funky Asher blue cheese or the creamy green hill Camembert style cheese made with cow's milk. A favorite is a French table cheese (Thomasville tomme). With the effervescence of the bubbles scrubbing the palate between each bite it simply brings out the best in the meal.
Come in and try the champagne offerings. So Gro is very excited to bring this offering to you.
Southern Grounds and Co, 200 First Street, Neptune Beach, Florida 32266
Phone: 904.853.5473
Website: www.sogrocoffee.com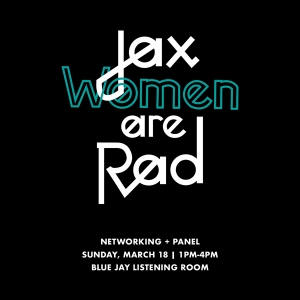 Jaffi's Owner Emilie Christenson to Be Featured on Upcoming Panel
Have you ever been curious about roadblocks local women have faced when starting their businesses? Or how about what influenced their path and how long it took to execute their idea from when it was born? What was their timeline like? Well, these rad women have answers and hopefully you'll hear a few golden nuggets in their stories that will help inspire your next big idea.
Join Jax Is Rad Sunday, March 18 from 1-4pm at Blue Jay Listening Room as they come together to empower and inspire one another. There will be networking and a lively panel discussion complete with adult beverages, yummy bites from Southern Roots Filling Station and sweet treats from AlleyCakes Bakery.
Panel:
20's: Carlie Christenson, Boob-eez
Ali Webb, AlleyCakes Bakery
Chelsea DuDeVoire, Babes Who Hustle
30's: Julie Schwartzenberger, Edge and Lines and Hotel Palms
Mariah Goelz, Southern Roots and Cultivate
40's: Emilie Christenson, Jaffi's
Mary Lyn Jenkins, Big Fish Yoga
Kara Scremin, Engine 15 Brewing Co. and Marketing Maven
50's: Julie Sanford, Starr Sanford Design Associates
60's: Susan King, Atlantic Beach Urban Farms
Moderator: Stevan Brown, Hotel Palms and Urban Coastal Media