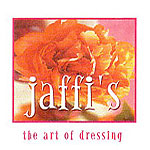 Jaffi's
200 First Street
Neptune Beach, Florida 32266
Phone: (904) 249-4030
Website
Jaffi's is "the ultimate girl closet" if you're looking for effortless style that's simple and fresh. The shop offers a comprehensive collection of the best each season has to offer in fashion and accessories from the hottest designers. The Jaffi's "look" embodies a clean, simple effortless style, yet is comfortable and wearable. Each piece can always work in tandem with another or add spice to an ever-building wardrobe. From jeans and flip-flops to a great dress and your best heels. Fun and fearless with style best describes the aesthetic of this store and the Jaffi's shopper.