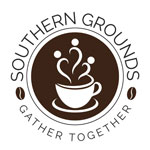 Southern Grounds and Co
200 First Street
Neptune Beach, Florida 32266
Phone: (904) 853-5473
Website • Facebook
Instagram • Twitter
Southern Grounds is a great place for folks to "Gather Together" to enjoy fine coffees, homemade desserts, wine, craft beers, or even a quick bite! We have been inspired by the coffee culture movement in Europe, Australia and now the US that we thought we could create a space that takes you away. We have been taken by the pull a great cup of coffee has to connect people, start conversations and create friendships. Coffee for us is about relaxing with friends and family and sharing the day with.