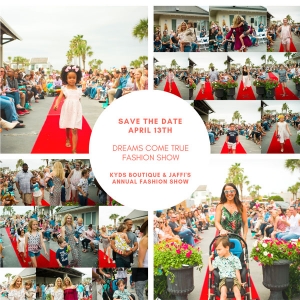 Kyds & Jaffi's will host the Annual Fashion Show Celebration for Dreams Come True of Jacksonville on Saturday, April 13, 2018! All proceeds from the event are directed 100% to Dreams Come True. Enjoy some of the latest spring fashions provided by Kyds & Jaffi's boutiques while enjoying live music, prizes, food and drinks.
TICKETS:
• $10 General Admission
• $20 VIP
SCHEDULE:
3:00pm - Pre-Show Party 4:00pm - Runway Show After Party 'til 6:00 p.m.
Ticket Options (DCT donation):
• $10 - General Admission - includes all pre/post show activities and participation in the raffle & silent auction.
• $20 - VIP - includes all pre/post show activities, participation in the raffle & silent auction, and reserved seating along the fashion show red carpet.
Modeling Fees (DCT donation):
• $50 - Model Fee - this provides sponsorship for one model. Sponsors may purchase General Admission or VIP tickets separately.
• $100 - Model Sponsorship for a Family - this provides the modeling fee for an entire family (with multiple children and/or parents who will model).
• $100 - Dream Family Sponsorship - this allows a Dream Family to enjoy the show and allow their children to model. This year we are looking for individuals and businesses to help underwrite 15 Dream Children and their families to be part of the show.
All models will enjoy the following:
• VIP model treatment
• Professional hair and makeup services
• Professional photography services
• Model 101 Training
• Participation in a REAL runway fashion show
• Use of fun fashions from Kyds & Jaffi's boutiques
• After Party Admission
• "Swag Bag" filled with goodies, special deals, and discounts
• Recognition via MC during event
After the Fashion Show, models are invited to join guests at the After Party for food, drinks, prizes, and fun! Models do NOT need to purchase event tickets and MODEL admission is included in model fee.
FOR MORE INFORMATION:
904.595.5092 • This email address is being protected from spambots. You need JavaScript enabled to view it. • kydsboutique.com
Sign up to model, sponsor, or buy tickets to the show!
Kyds & Jaffi's, 200 First Street, Neptune Beach, FL 32266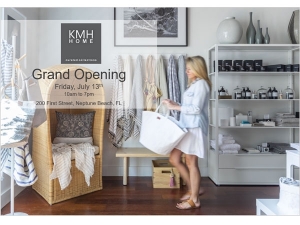 Since 1996, KMH Design Inc. has been a tasteful staple of the Beaches communities. The brainchild of Kathleen Hines Franza, the design house has been the name behind some of the most beautiful homes at the beach-- and, most recently, the awe-inducing Atlantic Beach Country Club revamp.
So what's next for a colorfully decorated designer and her staff, you might ask? KMH Home-- the company's first retail space.
Located in the Courtyard at 200 First Street, the retail space will be filled with all kinds of homegoods, hand-picked to give your home that signature KMH feel. From entertainment aids to luxe linens, there's a little piece of style for everyone.
To get a feel for what we can expect from the space, and a little background on the designer herself, we chatted with Franza about all things KMH:
Q: When did you first discover your passion for design? Did it come naturally or with a fair share of challenges?
A: Ending up where I am today was never consciously planned, it just happened and to this day it still surprises me. Reflecting back, I realized my mother was a major influence. She had great style and we grew up in a house with Danish modern furniture. From when I was little she encouraged me to decorate my own room and find my own style. While I went through many phases I ended up loving a more modern, simple design esthetic. Along the way I had the good fortune to meet many people that helped foster this new found love. After working with still photographer's then film companies in Miami I moved to Jacksonville to be close to my family. I worked for many years with my brothers in their commercial furniture company when I had the good fortune to meet an architect, who has become my lifelong friend. She gave me my first interior design job and from there, there was no turning back. To date it has been 20 years and I have enjoyed every minute of it.
Q: Are there any projects you've worked on that you were most proud of or most passionate about?
A: We of course are very proud of ALL of our work but when the architecture is perfect, the location is stunning and the clients are with you all the way then I believe it is easy to be passionate.
Q: How would you describe your design style?
A: Our preference has always been simple, clean but timeless interiors. Our design style is surely reflected in our interiors however the client's personality and their lifestyle is the driving force.
Q: What's your least favorite current trend in design? What about your favorite?
A: Edison bulb light fixtures. Large format tiles that transition from interior to exterior.
Q: How do you balance work with your everyday life?
A: Unfortunately, I am on 24/7 (you did mention passion). When time allows it is always spent with my family. They help keep me centered.
Q: After years with a successful studio space, what inspired you to venture into retail?
A: Our design offices have always had some sampling of products to showcase our style so after many years we started to discuss the idea of a retail location. We formulated our concept and began researching locations. We got close a few times but either the location or the timing just wasn't right. Then one day all the stars aligned, and the perfect spot opened that allowed us to have our offices AND a retail shop together without compromising a thing. Not to mention the PERFECT location. (Thank you ESJ) We couldn't be happier.
Q: What are you most excited about and what can we expect from KMH Home in the future?
A: Everything! The response has been overwhelming. The support our clients and colleagues have conveyed has been amazing. We have MANY ideas about how we can be more than just a retail store. It's all about the experience, the story our products tell and the commitment to helping our customers find their own design style! We are planning all types of in store events, learning seminars, client appreciation incentives along with gift services. So many things to plan! Stay tuned.