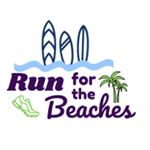 This fun, family, beach event has been created to benefit beach re-nourishment in our community. Carli Mikell, a lifelong beach resident and active member of Girl Scout Troop 814, has chosen to host this run as a way of giving back to her community in an effort to gain the highest level of achievement in Girl Scouts: The Gold Award.
All proceeds from the race will be used to purchase sea oats and equipment for the Fletcher Marine Coastal Club (FMCC). Coach Brown, the FMCC teacher sponsor, has encouraged and educated students on the importance of beach conservation in our community for decades. With influence from Coach Brown, Carli is hoping to continue his legacy by helping students from Fletcher High School experience first hand the value and importance of protecting our beautiful shoreline. A special thank you goes out to TODD O'DONNELL, Carli's Girl Scout project advisor. Without his guidance, knowledge and support, this event would not be possible.
Saturday, August 10, 2019
8:00 am start we recommend arriving at least 30 minutes prior to start
On the BEACH at Ahern St, Atlantic Beach, Florida
RACE PACKET and TIMING: Florida Race Day will be timing the event. Race packets will include a race T shirt, race bib, safety pins, and sponsor goodies. Packet pick up location to be determined and participants updated via email.
PARKING: Please bike, walk or jog to the start if possible. If not, ample parking at beaches town center and old K-Mart parking lot for the EVENT ONLY.
COURSE DESCRIPTION: Low tide beach run. Starting at Ahern St., participants will run or walk north on the beach for 1.55 miles to turn around just before 19th St. There will be signs indicating the turn around location and runners will run back to the start line to complete the 5k loop.
THANK YOU ALL FOR RUNNING!
For more information:
https://www.runforthebeaches.com/